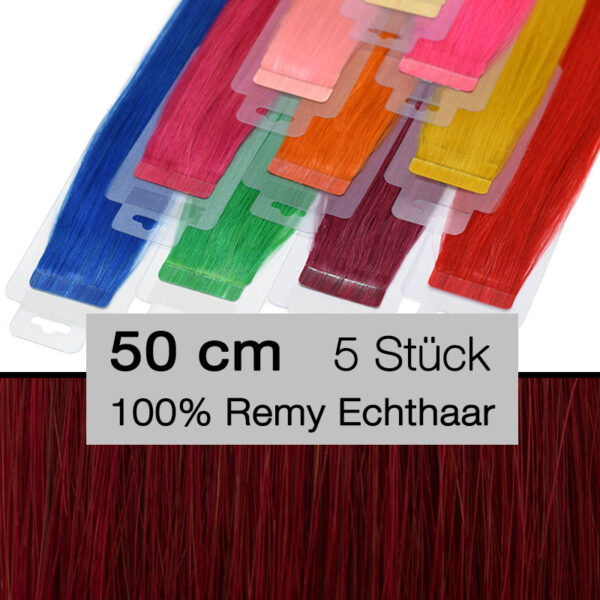 Colorful Tape Extensions Crazy Color 5 pieces 4 cm 530 burgundy
$37.66
Colorful Tape Extensions Crazy Color for highlights in the hair. Human hair pieces with tapes add variety to your hair – without damaging your own hair.
Description
Additional information
Reviews (0)
Description
What are tape extensions?
Tape extensions are glued to your own hair, ie there is double-sided adhesive tape on the hair wefts supplied by us. The weft is then glued to your own hair using the so-called sandwich method. You can have this professionally applied either with the help of a friend or with a stylist or hairdresser. After gluing the hair piece, it is important to heat the connection point again with a straightening iron and let it cool down well, this will strengthen the adhesive effect even more. You should not wash your hair for about 48 hours.
Loud color effects – Tape Extensions Crazy Color
Instead of bleaching or coloring their own hair, many stars and starlets use little tricks such as tape extensions. These are easy to attach and just as quick to remove. A big advantage is the volume that is created by these hairpieces – right down to the tips. Women with very fine or very short hair in particular like to use these wefts, as they are rather wide and therefore avoid an overly stringy look. This is very important, especially when the top hair is still short, in order to conceal the hair extensions as well as possible.
Does the color of the wefts wash out?
The hair that is used for the tresses has been gently lightened beforehand and colored in the respective hair color. Depending on the color pigment, the color lasts for a very long time, but the color should be lightened again with Directions or similar products after you have washed your hair a few times. to get that shine back. A complete hair extension is also possible with our Tape Extensions Crazy Color. If you want a bright red or pink, for example, you are welcome to use these tapes.
Hair pieces for highlights or hair extensions:
-Highlights: approx. 10 individual tapes (2 packages)
-Hair extensions: approx. 40 individual tapes (8 packages)
Our tip: Among our accessories you will find a tape – so removed hairpieces can be used again!
Additional information
| | |
| --- | --- |
| Weight | 0.0125 kg |
| Farbe | 530 burgundy red |
| Variante | 4cm – 2.5g – 50cm |
| System | Tape extensions |
| Inhalt | 5 pieces |