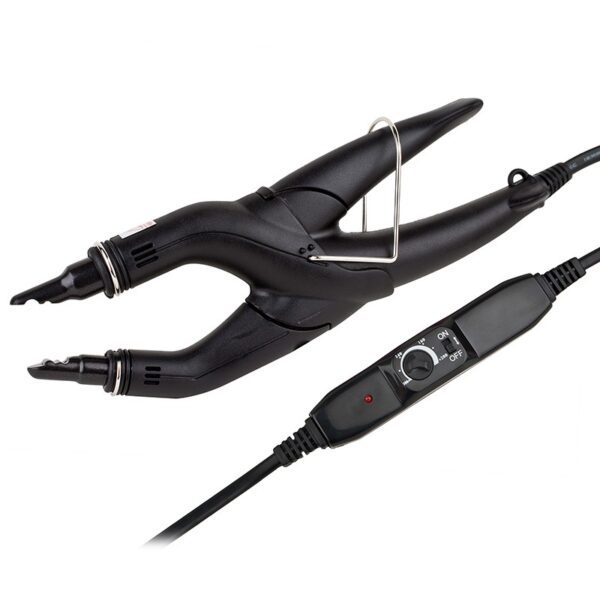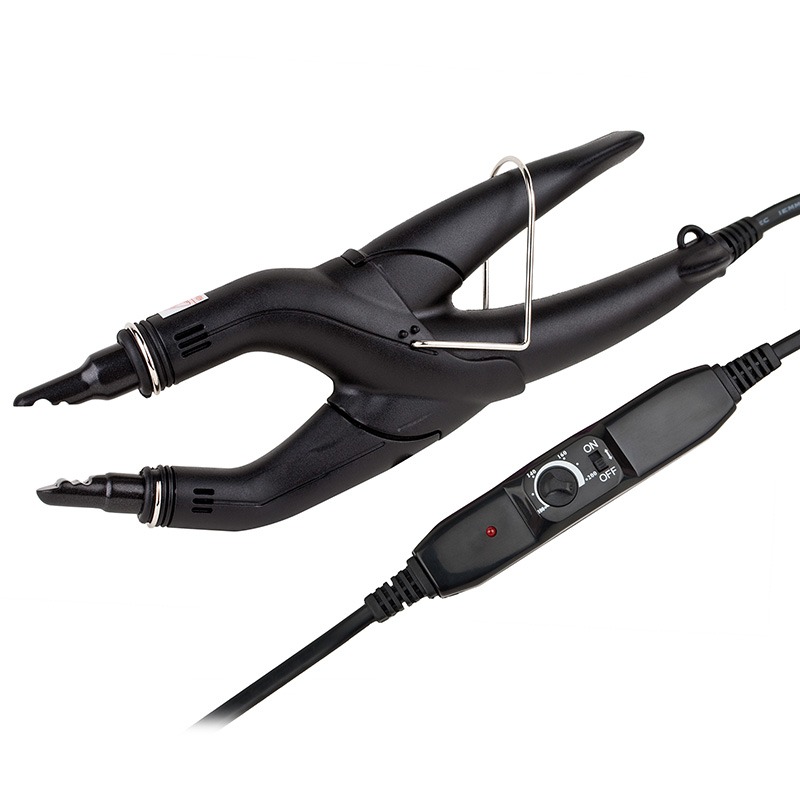 Heat tongs X with temperature controller black
$32.26
Heat tongs X with temperature controller for attaching bonding extensions. The perfect pliers for beginners and professionals – essential for professional hair extensions!
Description
Additional information
Reviews (0)
Description
The
connector

heat clamp

as an

accessory for extensions

If you want to attach real hair strands to your existing hair, you need heat tongs for this. The connector heat tongs are the ideal accessory for extensions because they work very gently. But this model as an accessory for extensions also offers you many more advantages that you can benefit from.
What a
heat gun

is used for

If you would like to carry out permanent hair extensions with bonding strands, you will need heat tongs for this. The bondings of the extensions are slipped over the strands of your own hair. Bondings are usually made of keratin. By heating with a heat tongs , the keratin melts, whereby the extensions connect to your own hair. Connector heat guns have two connector tips. Through this, a continuous and precise heat can be supplied. This enables very precise work. With the connector heat tongs as an accessory for extensions , only the bondings can be heated, which protects your own hair as much as possible.
Many advantages of
accessories for extensions
The Connector heat tongs have many advantages. Among other things, it impresses with its ergonomically shaped handle, which makes it very comfortable to hold. It can also be used as an entry-level model. What is also a very big advantage of the accessories for extensions is that there is a temperature controller through which the temperature can be freely adjusted. This is possible from 100-200°C. This means that the connector heat tongs can not only be used for extensions with keratin, but also for other materials such as wax. Furthermore, one of the positive aspects of this Connector heat tongs is that it has a very low weight, which also contributes to the fact that it always lies securely in the hand. As an accessory for extensions , these heat tongs are therefore indispensable.
The good features at a glance
Among the many good qualities this device brings are:
-The temperature controller, which can be continuously adjusted
-The existing on-off switch
-One LED power indicator light
-An uninterrupted supply of heat
-The fast heating
-A very long cable of 2.5 meters
-The ergonomic handles
-The light weight
-Usable for different materials such as wax or keratin
Additional information
| | |
| --- | --- |
| Weight | 0.31 kg |
| Farbe | black |
| Variante | with temperature controller |
| System | bonding extensions |
| Inhalt | 1 piece |