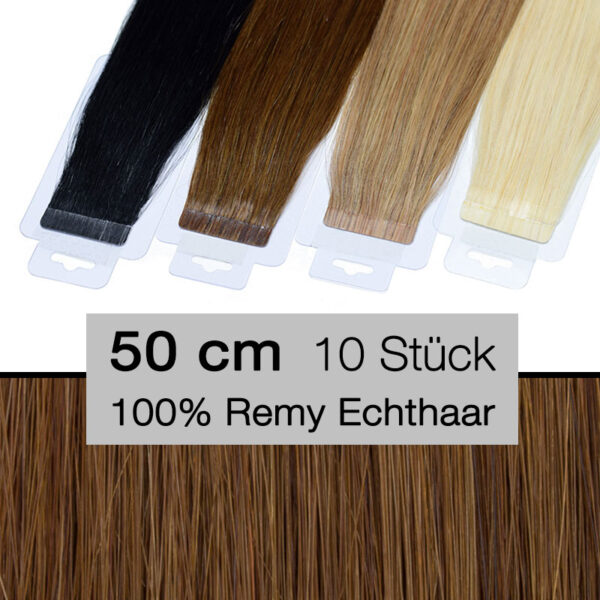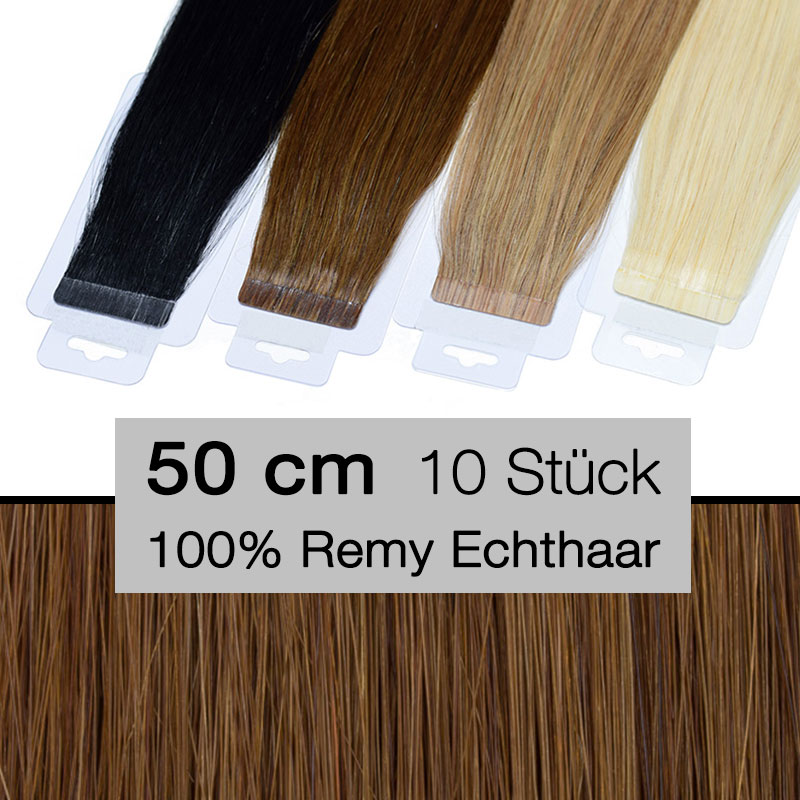 Tape In Hair Extensions Wefts 10 pieces 50 cm 4 cm 6 chestnut brown
$51.60
Tape extensions made from Indian human hair for cheap and quick hair extensions. Tapes made from Indian Remy hair with an intact cuticle layer.
Description
Additional information
Reviews (0)
Description
More information about our tape extensions:

These are real hair wefts that are provided with tapes. The tape extensions can be glued directly into the hair. However, the adhesive wefts have to be specially cared for, but are particularly suitable for hair thickening.
Human hair wefts for thicker hair
5 to 10 adhesive wefts (sandwiches) are ideal for a hair extension, 20 to 25 human hair wefts (sandwiches) are required for an extension. It is important that the tape extensions are treated with a care oil such as argan oil so that they do not dry out. The tapes must also not be washed upside down, otherwise they will run out quickly. Tapes should also be ordered at the same time so that tape extensions that have come loose can be reattached directly. With proper care, the hair tresses will last for about two months, although of course they can be glued on again with tape. Adhesive wefts can also be removed from the hair with a special solvent, just like real hair wefts can be dyed darker. Adhesive wefts are ideal for thin hair that gains fullness. The easy attachment of the tape extensions is another positive point, although a helping hand can be good here.
Adhesive braids in the desired color
Of course, the tape extensions are available in the right hair color, because the tapes shouldn"t stand out. Whether hair extensions or simply thicker hair, any desired hairstyle is possible with the fine human hair wefts. Simply choose the desired length and color, then the tape extensions can simply be glued into your own hair. However, the real hair wefts should always be brushed thoroughly at first, just like the tape extensions have to be properly cared for. Occasionally it can happen that individual adhesive wefts run out. To do this, simply attach new tapes and then stick them back into the hair. Real hair wefts are natural hair, so without any chemical agents. With the tapes, these can now be worked into the hair without being noticed. Of course, adhesive braids can also be shortened so that they adapt to the hairstyle. Whether for thick hair or simply for longer hair, human hair wefts are ideal for this. It is important that no care products with fruit acids are used, as the tapes can come loose.
Additional information
| | |
| --- | --- |
| Weight | 0.025 kg |
| Farbe | 6 maroon |
| Variante | 4cm – 2.5g – 50cm |
| System | Tape extensions |
| Inhalt | 10 pieces |